Quick christmas present for my hunting buddy.
First, we get some hock skins. I have a few kicking around salt cured, so into the bucket with mild detergent and warm water it goes. I think I washed it 3 times with soap to finally remove the rut smell, even used a soft brush on it. Then rinse.
The membrane in the flesh side is such a bugger to remove, wet scrape wise, so I decided to leave them on for the moment - just making sure all the gluey stuff, rutty smell and loose animal bits are removed.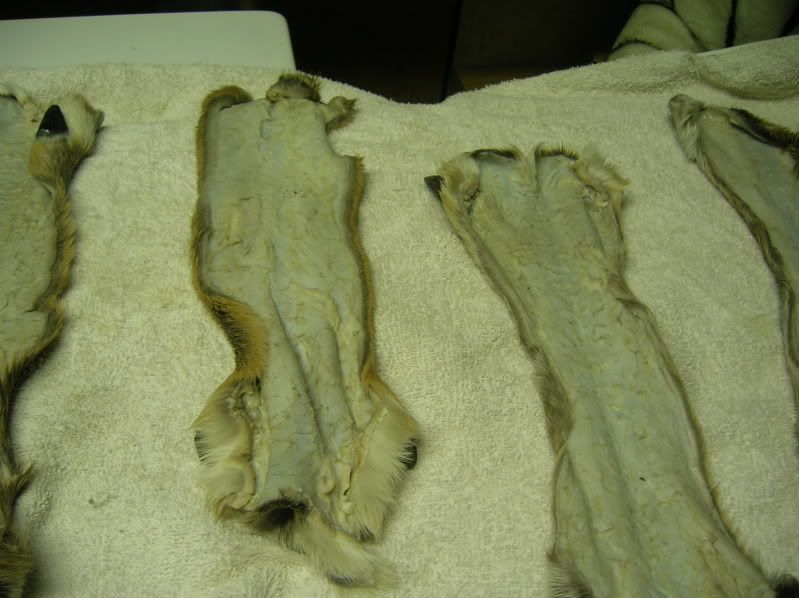 Roll it up in a towel, and wring, to dry off excess water.
Put it hair side up, on a towel, near a fan to dry off the hairside completely.
Tack it onto a flat board, flesh side up, to dry.
Once dry, use a sharp knife and a pumice stone to remove all membrane. I love the pumice stone - it kinda works like an eraser for membrane when the hockskin is dry. Love the stuff. Rub rub rub away until you remove the dried, shiny membrane stuff.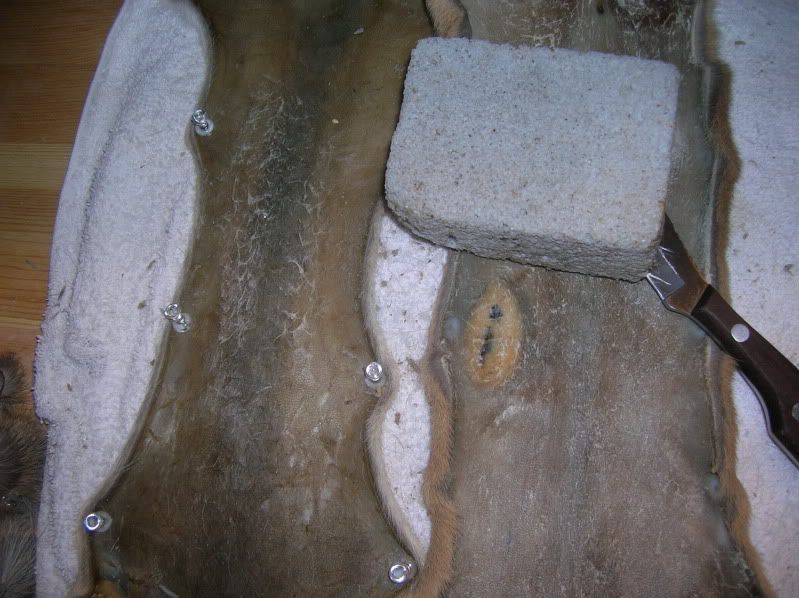 When most of the membrane is gone (little tiny patch here or there doesn't hurt it much), spray some water on it until damp, and dress it with your dressing of choice. I used 1/3 liquid soap + 2/3 oils.
Then I rolled it up in a damp towel that's been microwaved for half a minute to warm it up. Roll it up tight and put somewhere warm for an hour.
More dressing. Rub it in well, the hock skin should be really nice and loose, and pretty soft now.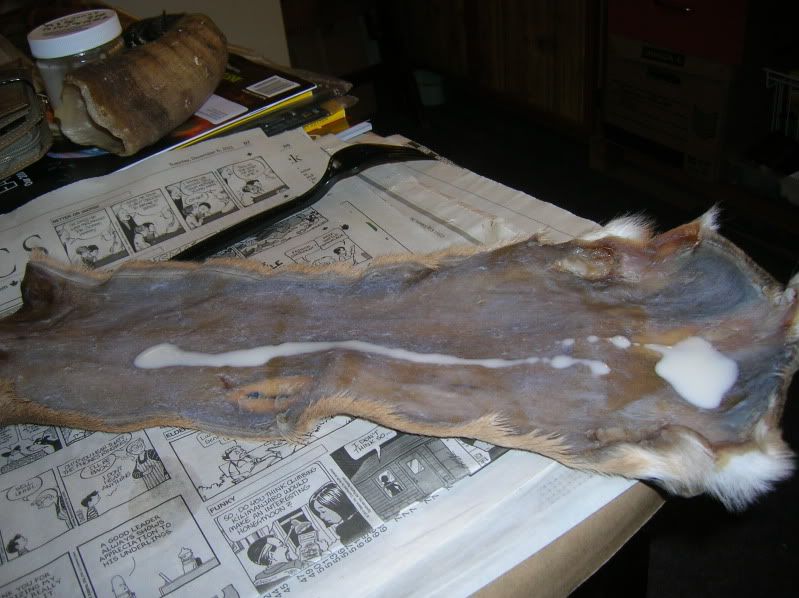 Then work it. Took me about an hour or so, hock skin is quite thick, but having hot hands and a warm room helps.
More bits of membrane comes off, which I knew they would.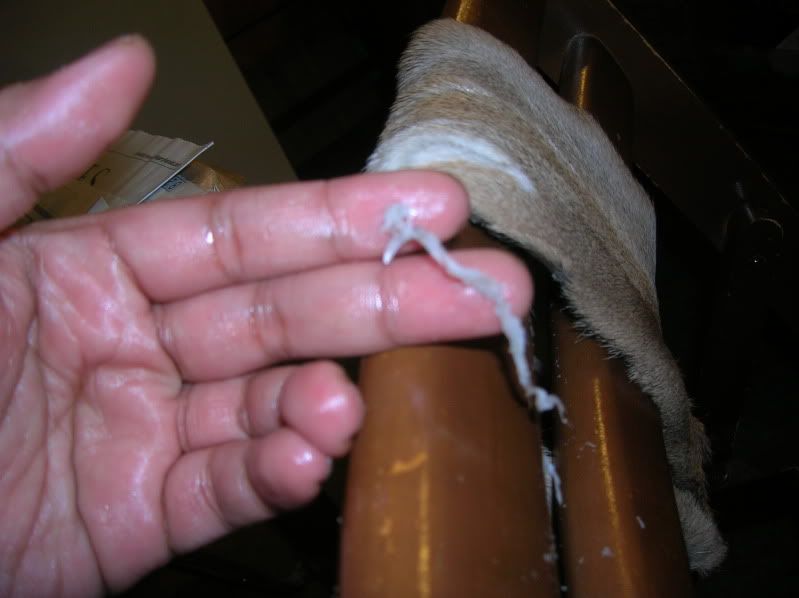 Sand paper to smooth it. Look how it compares to the tacked but not de-membraned, oiled and worked. I find it helps having an unworked piece to compare to as a reference for "done-ness"
The smoking step is missing because my niece's dog was keeping me busy - but yes, it was briefly smoked. For a tiny piece like this, what I did was put the hock in a tin with holes poked in the top and bottom. Then light an incense stick or put a smoky piece of damp wood in the tin. Smoke for as you needed. The tin helps hold the smoke in, too - so after an hour of taking out the hock out, there's still lotsa smoke in the tin.
I just folded the hock so that the hocky bit is on the flap. Basic envelope shape, if you will, and whip stitch the sides. Initially, I used a goldfish bead for a button, but it kinda looked a bit ... strange, so instead I just tied a knot in a trimmed piece of skin and sewed it on the main body. There is a hole that I accidentally poked into the hock skin when I was skinning it off the leg - the bit between the main hoofs, so that became the button hole.
Very, very not a work of art, but for a last minute present for another fellow hunter, I'm sure it'll see some use!
Other links that might interest you:
Deer hock pouch, iteration 2; with belt loop
How to skin deer legs for hockskins
Bark tanning hair on deer hide
Softening bark tanned hair on deer hide
How to remove the pasterns and coffin bone from a deer foot
Salt Curing deer hides for storage
How to degrease deer bones for making tools
Alum tawing white tail hair on neck skin
Soap/Oil tanning hoof-on, hair-on, Mule Deer hockskin
Processing green deer hide into ....
Wild Foods compilation